Brush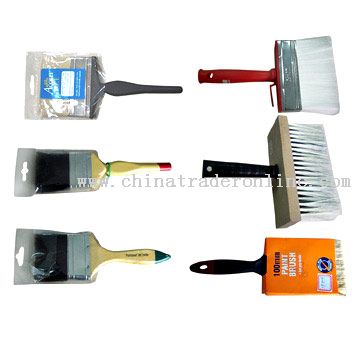 Brushes are available in two basic types: those made with natural bristles, and those with synthetic bristles. Natural-bristle brushes should be used only when applying alkyd or oil-based paints. (If you use a natural-bristle brush to apply a latex paint, the bristles will absorb the water from the paint, rendering them limp and difficult to work with.)These kind of brush mostly use for housing purpose.

Quality brushes share the following characteristics:
They have split or "flagged" ends for the hosing and are flexible at their tips, which helps produce a finer finish;
They are tapered such that the bristles in the center are slightly longer than those at the edge, which helps lay the paint down smoothly, evenly ;
They typically are at least half-again as long as they are wide (for example, the bristles on a 2"-wide brush should be at least 3" in length).
While buying brushes for housing purpose you can choose from natural and synthetic bristles. For painting walls buy housing brushes that are 3 to 4 inches wide housing brushes and are flat. For intricate work like the mullion on a window use a sash brush that is angled and about 1-1/2 inch wide. For doors, windows and trim use brushes that are 3 inch wide and have a straight edge. If the brush has a narrow end then it will retain more paint than a flat-ended brush. Soaking paint brushes in water or paint solvent for sometime makes it easier to clean. Make the money for useful things
Advantages: A professional paint brush applies a smoother finish with less brush strokes; paint is applied faster and with less effort. Plus, if properly cleaned and stored will last for years.(e.g.: wrap the brush or roller tightly in a plastic bag and put in the freezer.) Inexpensive paint brushes can shed bristles into the finish and are difficult to work with, producing an inferior finish and more frustration.
Avoid cheap brushes
This one is important. Cheap brushes leave streaky brush marks and don't think to save and make money.
Painting process using brushes: ceiling, walls, trim, cabinets, doors etc,.
Types of brushes: Painting is one of the most creative jobs. An artist when he puts his thoughts on to the material it is important that they require complete and a good set of tools that his brush, the palette, and many other things and he wont think to make money to save . There are many different kinds of paint brushes for the housing purpose from which you can choose from like big, square, small, fan, angle, mop, rigger, Filbert, Bright and many others. These brushes differ in their size, shapes, the fiber used in the brushes, some of these brushes are made of synthetic fibers, natural hair, and some are made of the combination of both synthetic fibers as well as natural hair. These brushes are available in different sizes like some are available in the size of a pencil tip and some are almost as large as a brush used for the painting done in the homes.
Choosing the right brush for housing
For ceilings, floors, chimneys, shingles, boats and pools, choose a wall brush, 7/8" to 1" thick and 3" to 6" wide; 4" wide flatting brushes are preferred. There are also lightweight 4" to 6" flatting brushes that are ideal for large areas.
For trellises, radiators, metal furniture, ladders, garden tools and small windows, choose 1" or 1-1/2" sash brush or small at varnish brush.
For small window sashes, choose 1" or 1-1/2" angular trim brush.
Automotive repainting choose 2-1/2" or 3" soft hair flowing-style brush, such as quality nylon or ox brush or a good varnish and enameling brush.