Modular Kitchen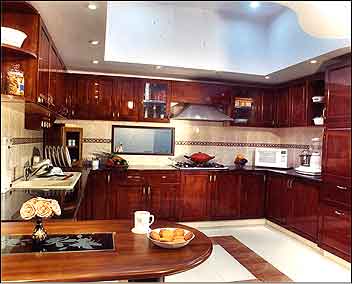 General Information
Modular Kitchen Designs have revolutionized the Kitchen Decor all over the world. Such vibrancy makes Kitchen vulnerable to it becoming a messy place, if care is not taken. It has been very rightly claimed that if one who can organize kitchen can organize life easily. Designs of Modular Kitchen look organized as well as offer ample storage by optimizing the available space to your home. Modular Kitchen Designs help us assimilate aesthetics and functionality in our kitchen. It must be remembered that kitchen is that place in our Home that is meant for the most important activity i.e. cooking. Interior Designers claim that if the Kitchen Décor is not pleasant, then the entire culinary act can seem an ordeal. The merits of Modular Kitchen Designs lie in the fact that they make cooking a celebration. This is because subtle nuances of environmental psychology are taken into consideration while designing Modular Kitchens.
Modular kitchen in India:- Modular Kitchen in India has created a revolution for all the homemakers. Kitchen is that special place in every home meant to explore culinary passions and especially in India, everything related to Food is revered. In India, where food is assigned divine properties, Kitchen is more than a place to cook, Kitchens in India are considered Altars. As Home Décor and Home Interiors are gaining importance, we find new concepts in Kitchen Décor making waves. One such modern concept of Modular Kitchen is gaining immense popularity in India.
Modular Kitchens are based on functional practicality and the onset of Modular Kitchen in the furniture market of India have spelt a consciousness that even kitchens can have a style statement and at the same time be comfortable and elegant.
Modular kitchen systems consist of standardized units pre-fabricated in a huge array of materials, available in varied hues and with a neat finishing. They come in different price ranges and thus, very easily fit into the budget of people wanting a modular kitchen system. A regular modular kitchen system will generally consist of standardized units for the floor and wall. The units are usually deep to house electrical appliances and kitchen utensils of varied shapes and sizes.
If your kitchen is completely bare i.e. without kitchen counters, you will need a box type kitchen. A box type modular kitchen is fully modular, from the kitchen counters to the cabinets and the shutters to the pullouts. On the other hand, if your builder has already provided you with granite kitchen counters or even a kaddapa (black limestone) framework, you can have a modular kitchen worked into it. However, this way only your cabinet shutters, shelves and pullouts will be modular. But you will be saving out on the overall cost of modular framework.
Modular Kitchen Designs
Modular Kitchen for a Modern Home:- The difference between modular kitchens and locally made ones is comparable to the difference between designer wear and clothing stitched by your neighborhood tailor. Modular Kitchen Designs have .....
Modular Kitchen Accessories
Kitchen - the very special place in every home - the seat of culinary delight has its own share of modern face uplift. No doubt, a Kitchen in Indian homes is more than a place to cook; Kitchens in India are considered Altars. With increased popularit .....